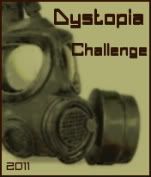 So if your looking for a challenge, be sure to drop by their blog!
Also thanks to
reader recommended
for her post otherwise i'd have never known about this challenge!
The Dystopia Challenge starts one minute past midnight, 1st of January 2011 and end the 31st of December 2011. The challenge is basically to read dystopian novels (avid fan of them) and choose from one of the challenge levels below to complete.
Challenge Levels
Asocial– Choose 5 books to read
Contagion – Choose 15 books to read
Soldier – Choose 30 books to read
Drone – Choose 50 books to read
Conditioned – Choose 75 books to read
For extra hard challenges
Brainwashed – Choose 76-125 books to read
Totalitarian – Choose 126-200 books to read
So as challenging these levels seem to be, i'm going to have to go for Contagion. Heck, i'm not so sure there's actually 200 DYSTOPIAN novels out there! But hopefully I'll reach Contagion!
So check out all the other challenges that BA hosts by clicking here
I'll post the dystopia list i'll read by this week